The Boston Internists
The Boston Internists is a new division of Weston primary Care. Where Weston Primary Care delivers concierge Internal Medicine/Primary care in the office setting for those that can physically come to the office, The Boston Internists is dedicated to caring for those patients who prefer to be seen in their own home. Whether they live in their house where they have lived in for many decades or in an Assisted or Independent living facility, we will come to them! Not only will your physician see you in your home, but your blood work and other typical office procedures can also be performed right in your home. Our patients will be seen a minimum of once a month but can also be seen urgently for sick visits, typically the same or next day.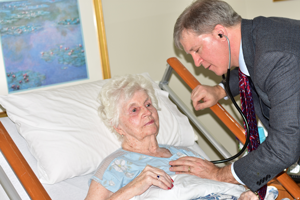 The concierge relationship between doctor and patient is the backbone of The Boston Internists, just as it is for Weston Primary Care. The concierge contract allows for the patient or family or caregiver to contact the patient's physician 24/7 directly by personal cell phone, or email. Nothing can be more frustrating when caring for a sick relative than when you cannot reach the patient's physician in a timely fashion. With the Boston Internists, your physician is just a phone call away 24/7!
Not only do we provide ease of access to your physician, but our physicians each have over 20 yrs of experience caring for the complex adult and elderly patient. We understand the many complexities involved in caring for patients with multiple medical problems and medications. We understand the struggle involved in deciding how aggressive should the treatment plan be for you or your loved one and when is it time to start focusing only on comfort. We are also affiliated with The Partners Healthcare system giving our patients access to some of the country's best hospitals in the Massachusetts General Hospital and Brigham and Women's Hospital.
If you are interested in becoming a patient with The Boston Internists or would like to schedule a complimentary Meet & Greet/Information session, please fill out the Contact Us form.
You can also review some of our current patient's testimonials by clicking here.