Timothy Murphy, M.D.
Medical Director
Dr. Timothy Murphy graduated from Boston University Medical School and completed his training in Internal Medicine at Boston Medical Center. He is Board Certified in Internal Medicine with the American Board of Internal Medicine.
Dr. Murphy started Weston Primary Care in 2007. In 2014, Weston Primary Care converted to a concierge practice. WPC's concierge service has developed a strong reputation as the premier concierge practice in the Metro-West area with 24/7 access and a commitment to the highest quality of care. His practice specializes in both adult and geriatric medicine. He refers to Newton-Wellesley Hospital and MGH, but will refer to any specialist in the Boston area if they are the right specialist for his patients.
He has been an instructor of Medicine at St. Elizabeth's Medical Center, Boston College Nurse Practitioner Program and an Assistant Program Director for the Massachusetts College of Pharmacy Physician Assistant Program. He teaches both Internal Medicine and Geriatrics.
He enjoys making difficult diagnoses and managing complex cases, but especially enjoys being a primary care physician for his loyal patients, some of whom he has been managing for over 20 years.
He is the father of four wonderful children, the husband of the accomplished Dr. Maryann Murphy, and enjoys spending time with his large extended family, sailing, playing beach volleyball, chess, family game night, poker and reading a good book.
Dr. Murphy is currently accepting patients into both his office based and geriatric home care concierge service practices.
---
Saul Cohen, M.D.
Dr. Saul Cohen earned his M.D. from Wayne State University School of Medicine and completed his internship, residency and fellowship training in Internal Medicine and Cardiology at Boston Medical Center. He is a Board Certified Diplomate of the American Board of Internal Medicine.
After completing his post-doctoral training, Dr. Cohen opened a private medical practice in Internal Medicine, Cardiology, and Preventive Medicine. By adhering to the "best evidence practice" from major academic studies, such as the monumental Framingham Heart Study, he guides, and tirelessly motivates, his patients toward risk factor modifications to reduce heart disease, making a major positive impact on the health and wellness of his patients.
Dr. Cohen's dedication and commitment to compassionate care for thousands of patients, earned him the Patient's Choice Award several years in a row, in addition to being cited by the Schwartz Center with a Compassionate Care Award recognition. Dr. Cohen has also been listed in Castle Connolly Top Doctors: Boston. Dr. Cohen has been the physician of first choice for the Whos-Who of Boston's financial and law enforcement professionals due to his reputation for his superb medical care and his delightful bedside manner.
Dr. Cohen joined Weston Primary Care as a concierge physician in 2014 and is currently accepting patients into his concierge service.
---
Maryann Murphy, M.D.
Dr. Maryann Murphy is a graduate of Buckingham Browne and Nichols School, Dartmouth College, and Boston University School of Medicine, where she was awarded the Dr. Samuel Poplack Student Prize for excellence in clinical medicine and patient care.
Dr. Murphy trained in Internal Medicine at Beth Israel Deaconess Hospital, and was a clinical fellow of Harvard Medical School. She was named an Instructor of Medicine at Harvard Medical School and for six years was on the faculty at Health Care Associates at Beth Israel Deaconess Medical Center, where she practiced Internal Medicine and served as Associate Medical Director of College Health Programs.
Dr. Murphy comes to us from her last practice at Beth Israel Deaconess HealthCare, Needham Village, a primary care practice in Needham, where she also served as their Medical Director. She has particular interests in Preventive Medicine, Sports Medicine and Women's Health.
Dr. Murphy is excited to finally work in a setting which will allows her to spend more direct time with her patients. She believes the best way to help her patients achieve and maintain optimal health is to form a close partnership with them, based on caring, mutual respect and open real-time communication.
---
Kate Tye, PA-C
Kate Tye earned a B.S. in Mathematics from Tufts University in 1979. After a 23 year career in Information Technology, Kate returned to school to pursue a lifelong desire to become a Physician Assistant. Her studies involved returning to school for 6 years (while also raising 3 children). She attended Massachusetts College of Pharmacy and Health Sciences. While there, she earned a second B.S. in Health Sciences and graduated summa cum laude in May, 2008. Kate then went on to earn a Master of Physician Assistant Studies in May, 2010. She was awarded the Alumni Association Student Leadership Award. She passed her Physician Assistant National Certifying Exam in May, 2010.
Kate started working at Weston Primary Care in August, 2010. She chose to practice in primary care as she considers herself "a people person." She loves being able to establish a long term relationship with patients, allowing her to know them both from a health standpoint as well as on a personal level. She believes her own life experiences allow her to relate to patients of all ages and provide them with the best possible care both physically and emotionally.
---
Melissa Hardy
Melissa attended the American Career Institute and graduated as a Certified Clinical Medical Assistant in 2011. She started working at Weston Primary Care soon after graduation.
Prior to attending school, Melissa worked as a Certified Pharmacy Technician for over 10 years.
Melissa is married and the mother of two adorable boys and step mother to three beautiful children.
---
Rose Mataev:
Assistant Office Manager
Rose was born and raised in Russia. In 1984, she came to the United States with her family and quickly picked up the English language by attending school. Several years later, Rose married and started a family of her own.
Rose has always been interested in medicine so she attended the Bryman Institute where she became certified as both a Medical Assistant as well as an Administrative Assistant. Rose has had many years of experience in both roles working at Faulkner Hospital for 6 years as well as Brigham and Womens Hospital for 6 years.
Rose has been with Weston Primary Care since we opened in 2007. She loves working here and is glad to bring her knowledge and experience to her job.
___________________________________________________________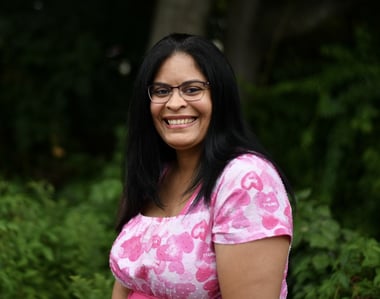 Evey Hochen
Evey is a graduate of American Career Institute in Framingham where she earned her Medical Assistant Certificate. She has eleven years of experience working in Internal Medicine practices. She has been with Weston Primary Care since May 2021 and has been a wonderful addition to our team.
Evey is a warm, kind, compassionate person who finds joy in the service of others. She always has a smile on her face and works to help others in all that she does. She is fluent in English, Spanish and Portuguese.
In her free time, Evey enjoys crocheting and playing the Mandolin and the Cuatro (a Puerto Rican musical instrument.) She has two beautiful adult children.